"I'm Morisa's mom. I thought I'd try some of the clothes my daughter made... I may have done something unbecoming of a woman my age. Forgive me for subjecting you to this sight."
— Everyone's Maid Momeow
Morisa's mother has a penchant for displays, and... oh, she's smiling this way...
Attack:
Lvl 1 : 4200
Max  : 11350
Max+: 14755

Growth: +50/60/70
Defense:
Lvl 1 : 2500
Max  : 5100
Max+: 6630

Growth: +20/20/20






Growth Progression: [2-26][27-41][42-80]
Skill: Devotion
Bellator ATK +20%

Enhance Value:
1000 experience
Dismiss Value:
5,700 pence
Acquisition
Edit
- Lost Lover Rescue during the Lost Lover Event
- Lost Lover Collector Challenge
- Guild ranking reward during Flash Brawl of July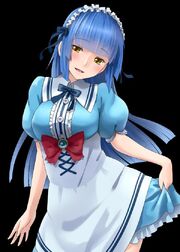 Non-English details

Japanese name
みんなのメイド オカアニャン
Chinese name
大家的女仆欧卡喵
Voice file
Voice actor (J)
加藤杏奈
Voice actor (E)
Kato Anna


Ad blocker interference detected!
Wikia is a free-to-use site that makes money from advertising. We have a modified experience for viewers using ad blockers

Wikia is not accessible if you've made further modifications. Remove the custom ad blocker rule(s) and the page will load as expected.