Enlightened Knight Noa




Rarity
★★★★★
Cost
51
Nation

Bellator

Type

Corsairs

Combo Type
Release Date
Unknown
"The world is not a sad place. The body goes to the earth, the soul to heaven. Even so, do not forget your parents, your siblings, or your hometown. You must know where you came from, to know where you are going."
— Enlightened Knight Noa
This mysterious warrior appears to fight for justice. When she leaves, she scatters lilies to comfort the souls of the deceased.
Attack:
Lvl 1 : 4550
Max  : 8325
Max+: 10822

Growth: +30/35/40
Defense:
Lvl 1 : 4250
Max  : 7950
Max+: 10335

Growth: +30/35/40






Growth Progression: [2-16][17-36][37-60]
Skill: Holly Bloom
Bellator ATK & DEF + 15%

Event Skill: Anti-Demon Arsenal Lv.3
Damage +120% in Demon Alice Brawl
Enhance Value:
500 experience
Dismiss Value:
6480 pence
Acquisition
Edit
-Jolly Roger Rescue (Limited Time)
-Special Event Rescue during the Demon Invasion Event
-Champagne Rescue during the Champagne Shower Event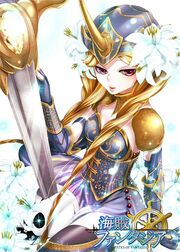 Non-English details

Japanese name
彼岸の騎士ホワイトノア
Chinese name
彼岸骑士怀特诺亚
Voice file

Voice actor (J)
Voice actor (E)


Ad blocker interference detected!
Wikia is a free-to-use site that makes money from advertising. We have a modified experience for viewers using ad blockers

Wikia is not accessible if you've made further modifications. Remove the custom ad blocker rule(s) and the page will load as expected.