"I will take your head for rampaging recklessly in the ocean. Sink every last pirate ship, and hang those you catch. Those are the rules. It's too late to reason with me! Shall I take your head now?"
— Enchanting Vice Admiral Dunamis
A former Vice Admiral of Maquina. As a soldier, she was an equal of the Admiral of the navy after the fall of the dynasty. She's a close friend of Admiral Stratio, and always supports her. They have a strong relationship of trust that nobody can come between.
Attack:
Lvl 1 : 6700
Max  : 14475
Max+: 18817

Growth: +50/+60/+70
Defense:
Lvl 1 : 6700
Max  : 10350
Max+: 13455

Growth: +20






Growth Progression: [2-26][27-41][42-80]
Skill: Over Regnant
Saucy Girls ATK +20%

Enhance Value:
1000 experience
Dismiss Value:
? pence
Acquisition
Edit
Purchased in the Sapphire Trading Post (4th ver.) for 600 Sapphires.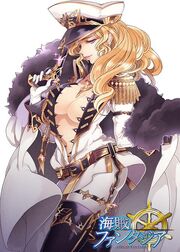 Non-English details

Japanese name
蠱惑の中将デュナミス
Chinese name
Voice file
Voice actor (J)
鶏冠井美智子
Voice actor (E)
Kaide Michiko


Ad blocker interference detected!
Wikia is a free-to-use site that makes money from advertising. We have a modified experience for viewers using ad blockers

Wikia is not accessible if you've made further modifications. Remove the custom ad blocker rule(s) and the page will load as expected.