"I always try to improve myself. I would punish those bad pirates or or help a lost child to find his or her mother・・・ Why are you laughing at me?"
— Enchanted Cinta
When she was little, the Pirate Queen saved this swordswoman. She came to the pirate bar in search of information on the Pirate Queen, but ended in a brawl.
Attack:
Lvl 1 : 1100
Max  : 2306
Max+: 2997

Growth: +20/25/30
Defense:
Lvl 1 : 1400
Max  : 2681
Max+: 3485

Growth: +20/25/30






Growth Progression: [2-11][12-16][17-30]
Skill: none


Enhance Value:
150 experience
Dismiss Value:
924 pence
Acquisition
Edit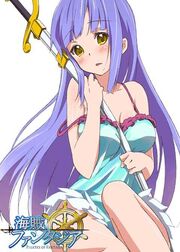 Non-English details

Japanese name
とろけるシンディ
Chinese name
软妹辛迪
Voice file
Voice actor (J)
内山由貴
Voice actor (E)
Yuki Uchiyama


Ad blocker interference detected!
Wikia is a free-to-use site that makes money from advertising. We have a modified experience for viewers using ad blockers

Wikia is not accessible if you've made further modifications. Remove the custom ad blocker rule(s) and the page will load as expected.