"Can you tell who I'm dressed up as? Heehee! Does it look good on me? Meow! I kinda borrowed this outfit, so don't tell anyone!"
— Empress Morisa
Morisa is a skilled cosplayer. She's so good that she's in consideration to become one of the Divine Empress' body doubles. She's going to have to give back the outfit, but for now she's having fun.
Attack:
Lvl 1 : 3800
Max  : 10675
Max+: 13877

Growth: +60
Defense:
Lvl 1 : 2600
Max  : 5225
Max+: 6792

Growth: +20






Growth Progression: [2-80]
Skill: Magical Stick
Sanctus ATK +20%

Enhance Value:

1000 experience
Dismiss Value:

5850 pence
Acquisition
Edit
- Champagne and Super Champagne Rescue during the Champagne Shower Event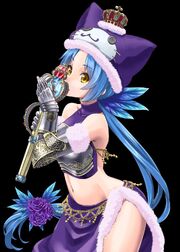 Morisa is wearing Divine Empress Perlina's outfit in this card's picture.



Non-English details

Japanese name
Chinese name
天帝风莫咖喵
Voice file
Voice actor (J)
加藤杏奈
Voice actor (E)
Kato Anna


Ad blocker interference detected!
Wikia is a free-to-use site that makes money from advertising. We have a modified experience for viewers using ad blockers

Wikia is not accessible if you've made further modifications. Remove the custom ad blocker rule(s) and the page will load as expected.