"?"
— Empress's Baby Sister Odelia
?
Note: This card is currently bugged and has no voice/description.
Attack:
Lvl 1 : 2500
Max  : 5100
Max+: 6630

Growth: +20/20/20
Defense:
Lvl 1 : 3700
Max  : 10725
Max+: 13942

Growth: +50/60/70






Growth Progression: [2-26][27-41][42-80]
Skill: Imperial Lineage
All DEF +20%

Enhance Value:
1000 experience
Dismiss Value:
6150 pence
Acquisition
Edit
-Awarded in the Temple of Atlantis Event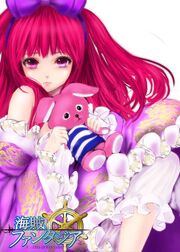 Non-English details

Japanese name
Chinese name
帝之妹安娜露西亚
Voice file

Voice actor (J)
Voice actor (E)


Ad blocker interference detected!
Wikia is a free-to-use site that makes money from advertising. We have a modified experience for viewers using ad blockers

Wikia is not accessible if you've made further modifications. Remove the custom ad blocker rule(s) and the page will load as expected.