Drifting Sorcerer Ebony




Rarity
★★★★★
Cost
45
Nation

Bellator

Type

Gypsies

Combo Type
Release Date
Unknown
"I like to tease people but I hate being teased. So please always be my toys. I'll use magic spells to change you to a rat if you resist."
— Drifting Sorcerer Ebony
A troublemaking sorceress who uses her talent for pranks. She was forced to leave [her] hometown and drifted to Maquina. She is looking for [the] treasure of the foreign castle to share with the poor elderly couple who gave her shelter.
Attack:
Lvl 1 : 4600
Max  : 9550
Max+: 12415

Growth: +40/50/60
Defense:
Lvl 1 : 3000
Max  : 5225
Max+: 6792

Growth: +20/20/20






Growth Progression: [2-16][17-36][37-60]
Skill: Jacob's Ladder
All ATK +10%

Event Skill: Invader Cleanup Lv.3
Damage +120% in Freya Battle
Enhance Value:
500 experience
Dismiss Value:
5400 pence
Acquisition
Edit
-Champagne Rescue during the Champagne Shower Event
- Watermelon Rescue during the Watermelon Party Event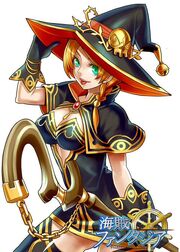 Non-English details

Japanese name
流浪の魔術師エリーゼ
Chinese name
流浪魔术师伊莉兹
Voice file
Voice actor (J)
何直美
Voice actor (E)
Nan Naomi


Ad blocker interference detected!
Wikia is a free-to-use site that makes money from advertising. We have a modified experience for viewers using ad blockers

Wikia is not accessible if you've made further modifications. Remove the custom ad blocker rule(s) and the page will load as expected.