"Hey, I like to dress all girly once in a while too. You barely recognize me? Well. I'm going to assume that was a compliment so I don't have to keelhaul you later."
— Dress-Up Reesa
Reesa dressed up for the 1-year anniversary of Pirate Maidens. Even in a dress she's still the same Reesa. She's ready to keep sailing with her beloved captain, but she's to embarrassed to say so.
Attack:
Lvl 1 : 3800
Max  : 10675
Max+: 13877

Growth: +60
Defense:
Lvl 1 : 2600
Max  : 5225
Max+: 6792

Growth: +20






Growth Progression: [2-80]
Skill: Secret Request
Maquina ATK +20%

Enhance Value:

1000 experience
Dismiss Value:

5850 pence
Acquisition
Edit
- Champagne and Super Champagne Rescue during the Champagne Shower Event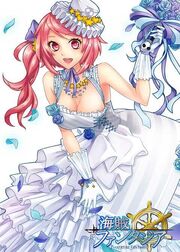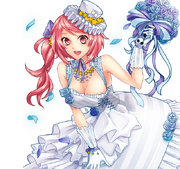 This card is one of several which have a larger vector that is displayed during story dialogue.



Non-English details

Japanese name
Chinese name
Voice file
Voice actor (J)
青木瑠璃子
Voice actor (E)
Aoki Ruriko


Ad blocker interference detected!
Wikia is a free-to-use site that makes money from advertising. We have a modified experience for viewers using ad blockers

Wikia is not accessible if you've made further modifications. Remove the custom ad blocker rule(s) and the page will load as expected.