"This Outlaw Sea is full of pirates, eh? It'll be a good place to make a name for myself. If I defeat every pirate I come across I'll be world-famous in no time."
— Dragon General Drake
Drake is an admiral from a parallel universe, and one of the Seven who might become the Pirate Queen's successor. After her defeat of the supposedly invincible Spanish Armada, she found herself summoned to this world, but has been so bold and effective here that she became one of the Seven in short order. Even so, she's searching for the means to return home.
Attack:
Lvl 1 : 3850
Max  : 10737
Max+: 13958

Growth: +60
Defense:
Lvl 1 : 2500
Max  : 5100
Max+: 6630

Growth: +20






Growth Progression: [2-80]
Skill: Invincible Charge
Otherworlder ATK +20%

Enhance Value:
1000 experience
Dismiss Value:
5700 pence
Acquisition
Edit
- Defeat Drake 35 times during The Rainbow Guardian Event
- Crystal Tower Rescue during The Rainbow Guardian Event
Cultural references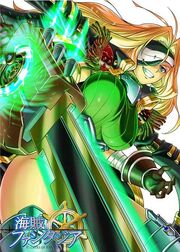 Non-English details

Japanese name
竜将フランシス・ドレーク
Chinese name
龙将弗朗斯希·德雷克
Voice file
Voice actor (J)
杉崎聡美
Voice actor (E)
Sugisaki Satomi


Ad blocker interference detected!
Wikia is a free-to-use site that makes money from advertising. We have a modified experience for viewers using ad blockers

Wikia is not accessible if you've made further modifications. Remove the custom ad blocker rule(s) and the page will load as expected.