"There is only one person deserving to be the empress in this world. Anyone who attacks us will be eradicated. Dear my people, my soldiers, burn the weak of our neighbor countries, show my name to the whole world."
— Divine Empress Perlina
The Empress who rules the Magic Nation, Sanctus. Every ruler of this nation has a vast magic power, but it comes at the price of a short life. She defeated the curse with the Lethe Ambrosia. She seeks to attain supremacy of the three Nations.
Attack:
Lvl 1 : 4700
Max  : 9825
Max+: 12772

Growth: +40
Defense:
Lvl 1 : 4900
Max  : 10075
Max+: 13097

Growth: +40






Growth Progression: [2-80]
Skill: none


Enhance Value:
1000 experience
Dismiss Value:
6300 pence
Acquisition
Edit
Bonus Story Information
Edit
Related to Bonus Story 28 for Statue of Nereides x1 and Kraken Draught (Cup) x1 - additional requirements: Cyclops Hornet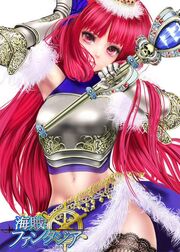 Non-English details

Japanese name
天帝スノードロップ
Chinese name
天帝雪花莲
Voice file

Voice actor (J)
ささきのぞみ
Voice actor (E)
Nozomi Sasaki


Ad blocker interference detected!
Wikia is a free-to-use site that makes money from advertising. We have a modified experience for viewers using ad blockers

Wikia is not accessible if you've made further modifications. Remove the custom ad blocker rule(s) and the page will load as expected.