"Men and women alike worry too much. There are enemies every step of the way, and it pays to be ready for them. If you're on top of things, you can still have things turn out well."
— Deposed Prince Will
Prince Will lost his future throne when the Alliance destroyed his kingdom and incorporated it into their lands. He turned pirate to hide from his pursuers, making friends with Commodore Albert and his crew.
Attack:
Lvl 1 : 3700
Max  : 8750
Max+: 11375

Growth: +40/50/60/50
Defense:
Lvl 1 : 2100
Max  : 4225
Max+: 5492

Growth: +20/20/20/20






Growth Progression: [2-16][17-36][37-61][62-65]
Skill: Surveying the Battlefield
Alliance ATK +15%

Event Skill: Thunderhead
+60% Damage in Tower Battles
Enhance Value:
500 experience
Dismiss Value:
4080 pence
Acquisition
Edit
-Special Event Rescue during the Cloudscape Event
-Champagne Rescue during the Champagne Shower Event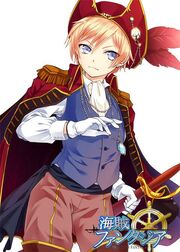 Non-English details

Japanese name
亡国の弟皇子ウィル
Chinese name
Voice file
Voice actor (J)
Voice actor (E)


Ad blocker interference detected!
Wikia is a free-to-use site that makes money from advertising. We have a modified experience for viewers using ad blockers

Wikia is not accessible if you've made further modifications. Remove the custom ad blocker rule(s) and the page will load as expected.