Demonic Death Leo




Rarity
★★★★★
Cost
47
Nation

Bellator

Type

Corsairs

Combo Type
Release Date
Unknown
"I want to live in this world even if i have to sell my soul to the devil. That doesn't siund like what a warrior would say? i don't care if you look down on me. At least I will still be able to live on awkwardly."
— Demonic Death Leo
The retired swordswoman who fell ill. She came back to the world with another name, Leo She agreed to join the secret Association of the Twelve Stars as the temporary help. She wields her sword once again for this association.  
Attack:
Lvl 1 : 4620
Max  : 8412
Max+: 10935

Growth: +30/35/40
Defense:
Lvl 1 : 4520
Max  : 8287
Max+: 10773

Growth: +30/35/40






Growth Progression: [2-16][17-36][37-60]
Skill: Bewitched/Articles
Saucy Girl ATK +15%

Enhance Value:
500 experience
Dismiss Value:
5640 pence
Acquisition
Edit
- Purchased in the Sapphire Trading Post (1st ver.) for 150 Sapphires.

Water Bearer Livonah had a disease that made her extremely ill, and was not given much time to live. She agreed, while on Nobody's Island, to help the Association of the Twelve Stars in exchange for a remedy to her condition.
Defunct version
Edit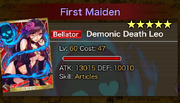 There are two versions of this card, according to a news posting from 11/04 by GM_FresnoBob. Players wishing to swap to the version with Bewitched should sell this pirate for pence in-game, and then contact mobilehelp@aeriagames.com for a refund of Sapphires.
The stronger version of Leo, with ATK & DEF at 13015 & 10010 and the skill 'Articles': Corsair ATK+ 3 cannons, has since been phased out.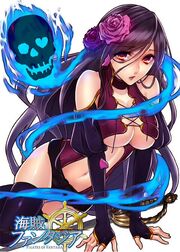 Non-English details

Japanese name
死神憑きアルフリード
Chinese name
死神附身阿弗雷德
Voice file
Voice actor (J)
Voice actor (E)


Ad blocker interference detected!
Wikia is a free-to-use site that makes money from advertising. We have a modified experience for viewers using ad blockers

Wikia is not accessible if you've made further modifications. Remove the custom ad blocker rule(s) and the page will load as expected.