Encounter Message: Give me your soul. Now.
Lose Brawl: Can I have your soul now?
Win Brawl: Sister... Save me...
"Want to see my soul collection? I've got some famous people from history books. I'll let you have a look, but in exchange I get your soul, okay?"
— Demon Alice
Alice escaped from her prison within a magic stone. She now hunts for the souls of humans, though no one knows exactly what she plans to do with them.
Attack:
Lvl 1 : 3800
Max  : 8325
Max+: 10822

Growth: +60/50/40
Defense:
Lvl 1 : 2800
Max  : 4975
Max+: 6467

Growth: +20/20/20






Growth Progression: [2-16][17-36][37-60]
Skill: none


Enhance Value:
500 experience
Dismiss Value:
3360 pence
Acquisition
Edit
-Defeat Demon Alice 35 and 70 times in Demon Invasion Event.
-Defeat Demon Alice 30 and 60 times in 1 Year Anniversary Gathering of Powerful Foes Event (Part 1)
Bonus Story Information
Edit
Related to Bonus Story 55 for Pixie Archer x1 - no additional requirements.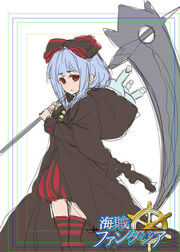 A sketch of Demon Alice was released.



Non-English details

Japanese name
魔人アリス
Chinese name
魔人阿里斯
Voice file
Voice actor (J)
三好由希子
Voice actor (E)
Miyoshi Yukiko


Ad blocker interference detected!
Wikia is a free-to-use site that makes money from advertising. We have a modified experience for viewers using ad blockers

Wikia is not accessible if you've made further modifications. Remove the custom ad blocker rule(s) and the page will load as expected.