Dashing Ruby




Rarity
★★★★
Cost
35
Nation

Sanctus

Type

Gypsies

Combo Type
Release Date
Unknown
"I am the youngest in the Circle of Ten. I'm amazing, right? But Diamond and Lapis always treat me like a child because my breasts are smaller than theirs. They make me so mad I want to explode. Would you be impressed if I decipher this ancient book?"
— Dashing Ruby
A child genius who mastered one thousand spells. On behalf of her retired teacher, she became one of the Circle of Ten. She has an out of control desire to learn.
Attack:
Lvl 1 : 2800
Max  : 5125
Max+: 6662

Growth: +35/30/25
Defense:
Lvl 1 : 2700
Max  : 5000
Max+: 6500

Growth: +35/30/25






Growth Progression: [2-16][17-26][27-45]
Skill: Strike Colors
Sanctus ATK +15%

Enhance Value:
300 experience
Dismiss Value:
3570 pence
Acquisition
Edit
- Champagne Rescue during the Champagne Shower Event
Bonus Story Information
Edit
Related to Bonus Story 27 for Ticket x1, Kraken Draught (Cup) x1 - additional requirements: Dancer Catalina.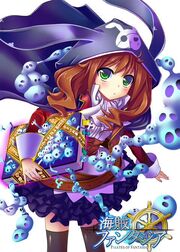 Non-English details

Japanese name
神童アイリス
Chinese name
神童鸢尾
Voice file
Voice actor (J)
高木恵
Voice actor (E)
Takagi Megumi


Ad blocker interference detected!
Wikia is a free-to-use site that makes money from advertising. We have a modified experience for viewers using ad blockers

Wikia is not accessible if you've made further modifications. Remove the custom ad blocker rule(s) and the page will load as expected.