Nation Bonus
Edit
Everyday players receive log-in rewards based on which nation they are aligned with and its current rank. The log-In reset everyday at 4:00 AM PST. The rank rewards are [Bound] since May 2014 and are as follows:

Rank #1

Rank #2

Rank #3
Other Bonuses
Edit
During Rescue Events, players will receive 4 of the special items used during that event's special rescue. This is in addition to the Stamp Board rewards and the Nation Bonus items.
Log-In Stamp
Edit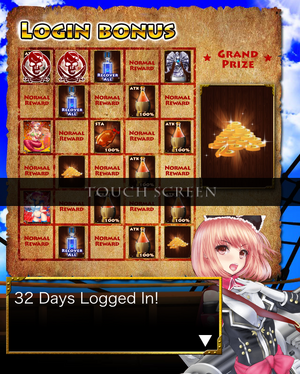 Started in October 2013 and discontinued in March 2014, In addition to the log-in Bonus, players received daily log-in stamps for each day of playing Pirate Maidens. The higher the number of days, the better the rewards received. The days did not need to be consecutive. Every day players received the normal reward, but on certain days was also received a bonus award.
Example of Normal rewards so far:
(These are approximate dates)
Some of the potential bonus rewards include:
Grand Prizes
Edit
For each stamp board of 30 days, there is a grand prize on the last day. The GC prizes are on the following days:
Day 21: 300 GC
Day 30: 500 GC
Day 47: 500 GC
Day 60: ?
Day 90: 2000 GC
Day 101: 1000 GC
In the Japanese and Chinese versions, the Grand Prizes are a lot less generous, generally being pirates instead of GC.
Ad blocker interference detected!
Wikia is a free-to-use site that makes money from advertising. We have a modified experience for viewers using ad blockers

Wikia is not accessible if you've made further modifications. Remove the custom ad blocker rule(s) and the page will load as expected.