"Hey Captain, how do I look? This is the latest style you know. Huh? You like my usual outfit better? I'll have to think about it."
— Cutie Reesa
She is a very cheerful heroine. She's decided on a cute little outfit this time.
Attack:
Lvl 1 : 3550
Max  : 8125
Max+: 10562

Growth: +50
Defense:
Lvl 1 : 1650
Max  : 3537
Max+: 4598

Growth: +20






Growth Progression: [2-60]
Skill: Break Event
Guild Battle Only: All ATK +15%

Enhance Value:
500 experience
Dismiss Value:
3240 pence
Acquisition
Edit
-Jolly Roger Rescue (Limited Time)
-Saraid Rescue during the Take Saraid's Treasure Event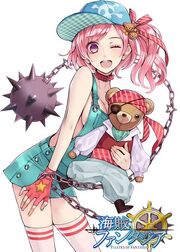 Due to an exploit in-game, Cutie Reesa's Cost has been increased from 30 to 38.



Non-English details

Japanese name
キューティー・リノン
Chinese name
甜心·莉娜
Voice file
Voice actor (J)
青木瑠璃子
Voice actor (E)
Aoki Ruriko


Ad blocker interference detected!
Wikia is a free-to-use site that makes money from advertising. We have a modified experience for viewers using ad blockers

Wikia is not accessible if you've made further modifications. Remove the custom ad blocker rule(s) and the page will load as expected.