Curve Ball Zelia




Rarity
★★★★
Cost
22
Nation

Bellator

Type

Corsairs

Combo Type
Release Date
Unknown
"Autumn is the best for competition! Friendship! Hard work! Victory! Aren't these the best? I'm so excited!"
— Curve Ball Zelia
Zelia is one of the Eight Blades and fiercely devoted to the Legionnaire. Her warrior spirit makes her a powerful competitor in most any sport, and batters cower before her pitching arm.
Attack:
Lvl 1 : 2700
Max  : 5625
Max+: 7312

Growth: +30/40/50
Defense:
Lvl 1 : 2200
Max  : 3662
Max+: 4760

Growth: +10/20/20






Growth Progression: [2-16][17-26][27-45]
Skill: Athletic Meet CH
ATK +100% / Home Run

Enhance Value:
300 experience
Dismiss Value:
2240 pence
Acquisition
Edit
Jolly Roger Rescue (Sporty Pirate Edition)
Bonus Story Information
Edit
Related to Bonus Story 25 for Pixie Archer x1, Ticket x1 - additional requirements: Goalkeeper Opal.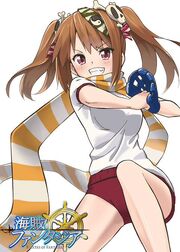 Non-English details

Japanese name
Chinese name
魔球使洛·夏尔
Voice file
Voice actor (J)
Voice actor (E)


Ad blocker interference detected!
Wikia is a free-to-use site that makes money from advertising. We have a modified experience for viewers using ad blockers

Wikia is not accessible if you've made further modifications. Remove the custom ad blocker rule(s) and the page will load as expected.