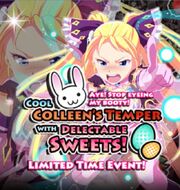 The Colleen's Temper Event is a Dungeon Event.
Raid Boss: Sparkling Colleen
Event Skills:
-Special Welcome (damage to Colleen)
-Sweet Tooth (increased Sweets collection)
Event Points: Sweets
Floor 100 Reward: Craftsman Toan
Ocurrences:
April 3, 2013 - April 15, 2013 12:00 GMT-7
Cutscenes
Edit
To be added
Boss Stats
Edit
See: Colleen's Temper Event/Boss Stats [to be implemented]
Dungeon Info
Edit
Dungeon Bosses
Edit
To be added
Hall of Fame
Edit
Ad blocker interference detected!
Wikia is a free-to-use site that makes money from advertising. We have a modified experience for viewers using ad blockers

Wikia is not accessible if you've made further modifications. Remove the custom ad blocker rule(s) and the page will load as expected.