"This time I tried more of an egghead look. Do I seem smarter? These clothes are nice and crisp!"
— Class President Reesa
Clad in a sailor suit uniform and looking very much like an anime heroine, Reesa is about to become the student council president of Pirate Academy. She's usually the Captain's first mate, but this time she wanted to try being in charge. Her cheerful, energetic personality has kept her approval ratings high.  
Attack:
Lvl 1 :  4700
Max  :  9675
Max+:  12577

Growth: +40/50/60
Defense:
Lvl 1 :  2900
Max  :  5100
Max+:  6630

Growth: +20






Growth Progression: [2-16][17-36][37-60]
Skill: Student Body President
All ATK +10%

Event Skill: Detention Lv3
+120% DMG to Yakira
Enhance Value:
500 experience 
Dismiss Value:
3240 pence 
Acquisition
Edit
- Event Rescue during the Pirates Academy Event
- Champagne Bottle Rescue during Champagne Shower Event
- Watermelon Rescue during the Watermelon Party Event
-Mysterious rescue during The Lost Codex Event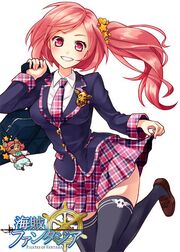 Non-English details

Japanese name
Chinese name
Voice file
Voice actor (J)
青木瑠璃子
Voice actor (E)
Aoki Ruriko


Ad blocker interference detected!
Wikia is a free-to-use site that makes money from advertising. We have a modified experience for viewers using ad blockers

Wikia is not accessible if you've made further modifications. Remove the custom ad blocker rule(s) and the page will load as expected.