Chef Arica




Rarity
★★★★
Cost
36
Nation

Sanctus

Type

Gypsies

Combo Type
Release Date
Unknown
"Cooking and cleaning, I can take care of them with magic・・・.A shoulder massage? Seems like there are more and more stuff I can do! So・・・please keep me by your side for as many years as possible!"
— Chef Arica
A young witch who started to take on [a] part-time job, hoping to change her timid personality. She always thought that she has no luck with men so she plan[s] on forcing out some of her courage during Valentine's.
Attack:
Lvl 1 : 3400
Max  : 5925
Max+: 7702

Growth: +25/30/35
Defense:
Lvl 1 : 3300
Max  : 5800
Max+: 7540

Growth: +25/30/35






Growth Progression: [2-16][17-26][27-45]
Skill: Sweet Magic
Maquina ATK +30%

Enhance Value:
300 experience
Dismiss Value:
3672 pence
Acquisition
Edit
-Jolly Roger Rescue (Valentine's Day Special)
-Awarded to Gears of Fate and Eclipse on February ??, 2013 for the Privateer Awards Event.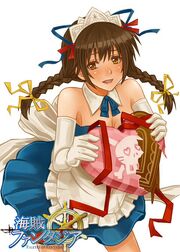 The appropriate name for the skill effect is Vs. Maquina +30% ATK, which has a chance of increasing only the ATK of the card with the skill by 30% against a Maquina card in the defending lineup.
Ad blocker interference detected!
Wikia is a free-to-use site that makes money from advertising. We have a modified experience for viewers using ad blockers

Wikia is not accessible if you've made further modifications. Remove the custom ad blocker rule(s) and the page will load as expected.