"I DID say I wanted a new weapon, right? So why am I stuck with··· Oh! Sorry, I know you went to a lot of trouble to get it ready for me, but··· this thing looks pretty painful···."
— Chainsaw Amy
Amy is a brave warrior who has taken up a chainsaw. However, she looks so terrifying that her friends have abandoned her. She's currently looking for a new weapon to use!
Attack:
Lvl 1 : 3500
Max  : 6575
Max+: 8547

Growth: +40
Defense:
Lvl 1 : 2400
Max  : 4100
Max+: 5330

Growth: +20






Growth Progression: [2-45]
Skill: Slashing Shot
VS. Corsairs ATK +30%

Event Skill: Dependable Tactics
Intermediate Dungeon Damage +75%
Enhance Value:
300 experience
Dismiss Value:
3060 pence
Acquisition
Edit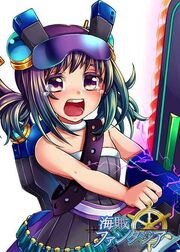 There is another card with the exact same name, Amy the Slicer.
Was previously named Amy the Slicer, the same name as her original.
Ad blocker interference detected!
Wikia is a free-to-use site that makes money from advertising. We have a modified experience for viewers using ad blockers

Wikia is not accessible if you've made further modifications. Remove the custom ad blocker rule(s) and the page will load as expected.