"Soldiers are always running off places, so I can steal tons of treasure. Like this, and this and oh! This is nice! Oh man[,] so heavy"
— Blue Lightning Happiness
Happiness is a member of the Animal Tails, a band of pirates who wear fluffy animal costumes. She's exceptionally fast and agile, and loves to toy with enemies. They call her the Blue Lightning, a name that she quite likes.
Attack:
Lvl 1 : 3550
Max  : 7737
Max+: 10058

Growth:
Defense:
Lvl 1 : 1650
Max  : 3037
Max+: 3948

Growth:






Growth Progression: [2-60] (irregular growth)
Skill: none


Enhance Value:
500 experience
Dismiss Value:
2040 pence
Acquisition
Edit
- Beat on floor 100 during the Land of Falling Stars Event. Can be gotten more than once.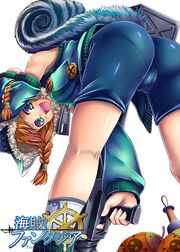 Ad blocker interference detected!
Wikia is a free-to-use site that makes money from advertising. We have a modified experience for viewers using ad blockers

Wikia is not accessible if you've made further modifications. Remove the custom ad blocker rule(s) and the page will load as expected.