"The master gave me this swimsuit. Do I look cute? The master said I'd cause nosebleeds. That sounds awful."
— Beach Time Fun Ruby
Ruby is the youngest of the Sanctus Circle of Ten. She has very potent magical power[s], but at the beach, she shows that she's actually still a kid at heart. She has a habit of judging people by their bust size, and often gets angry at the people around her.
Attack:
Lvl 1 : 3900
Max  : 10800
Max+: 14040

Growth: +60
Defense:
Lvl 1 : 2700
Max  : 5350
Max+: 6955

Growth: +20






Growth Progression: [2-80]
Skill: Ruby's Smile
Sanctus ATK +20%

Enhance Value:
1000 experience
Dismiss Value:
6000 pence
Acquisition
Edit
- Personal rankings reward during the Typhoon Tower Event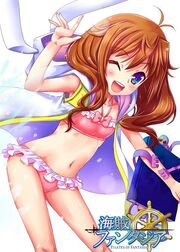 Non-English details

Japanese name
輝く海辺のアイリス
Chinese name
闪耀于海边的鸢尾
Voice file
Voice actor (J)
高木恵
Voice actor (E)
Takagi Megumi


Ad blocker interference detected!
Wikia is a free-to-use site that makes money from advertising. We have a modified experience for viewers using ad blockers

Wikia is not accessible if you've made further modifications. Remove the custom ad blocker rule(s) and the page will load as expected.