"I appreciate the gift, but this is a bit too... revealing. I'm not saying I won't wear it, but only for you, okay?"
— Beach Bunny Cinta
She's not used to wearing a bikini, but gave one a try--- except, she was so embarrassed she ran away. Unfortunately, something bad was waiting for her...
Attack:
Lvl 1 : 3850
Max  : 10737
Max+: 13958

Growth: +60
Defense:
Lvl 1 : 2500
Max  : 5100
Max+: 6630

Growth: +20






Growth Progression: [2-80]
Skill: Enchantment
Bellator ATK +20%

Enhance Value:
1000 experience
Dismiss Value:
5850 pence
Acquisition
Edit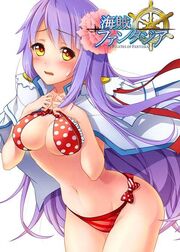 Non-English details

Japanese name
浜辺の天使シンディ
Chinese name
海边的天使辛迪
Voice file
Voice actor (J)
内田由貴
Voice actor (E)


Ad blocker interference detected!
Wikia is a free-to-use site that makes money from advertising. We have a modified experience for viewers using ad blockers

Wikia is not accessible if you've made further modifications. Remove the custom ad blocker rule(s) and the page will load as expected.