"Rosa is Red, Idola is Blue, Here are some chocolates Captain, I <3 you"
— Be Mine, Reesa
Reesa went back to candy island to find something special for her valentine.
Attack:
Lvl 1 : 2800
Max  : 5600
Max+: 7280

Growth: +?
Defense:
Lvl 1 : 3525
Max  : 10518
Max+: 13673

Growth: +?






Growth Progression: ?
Skill: Infatuation
Corsair DEF +20%

Enhance Value:
1000 experience
Dismiss Value:
? pence
Acquisition
Edit
- 12000 Valor points in the Valor Exchange Hall during the Arctic Vortex Event [Limit: 1]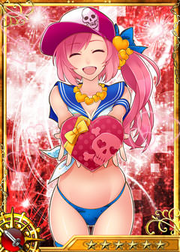 This card was released earlier than the Japanese version (Valentine Reesa) with respect to the event timelines. The stats were modified from the original Japanese version, whose stats are listed below.

Rarity: ★★★★★★
Max level: 80
Cost: 48
Attack:
Lvl 1 : 4000
Max  : 8950
Max+: 11635

Growth: +40
Defense:
Lvl 1 : 4200
Max  : 9200
Max+: 11960

Growth: +40






Growth Progression: [2-80]
Skill: スウィートキス (Sweet Kiss)
All DEF +15%




Non-English details

Japanese name
バレンタイン リノン
Chinese name
Voice file
Voice actor (J)
Voice actor (E)


Ad blocker interference detected!
Wikia is a free-to-use site that makes money from advertising. We have a modified experience for viewers using ad blockers

Wikia is not accessible if you've made further modifications. Remove the custom ad blocker rule(s) and the page will load as expected.