Azure Sea Rose




Rarity
★★★★★
Cost
49
Nation

Sanctus

Type

Gypsies

Combo Type
Release Date
Unknown
"You're a pirate, aren't you? I don't suppose you'd get off that ship so I could arrest you...? S-Sorry! I guess you don't want to? But you'd be even more upset if your boat sank."
— Azure Sea Rose
Rose is one of the Circle of Ten, Sanctus' greatest magicians. She has the ability to control water, making her an incredible asset in naval battles. Despite her great power, she's actually quite humble, and well-liked by the rest of the Circle of Ten.
Attack:
Lvl 1 : 4400
Max  : 8025
Max+: 10432

Growth: +40
Defense:
Lvl 1 : 4000
Max  : 7525
Max+: 9782

Growth: +40






Growth Progression: [2-60]
Skill: Event Horizon
Sanctus ATK +20%

Enhance Value:
500 experience
Dismiss Value:
5880 pence
Acquisition
Edit
-Main Personal Ranking Rewards pirate for top 1-100 for the Land of Falling Stars Event.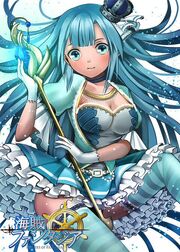 Non-English details

Japanese name
Chinese name
苍海的蓝玫瑰
Voice file
Voice actor (J)
Voice actor (E)


Ad blocker interference detected!
Wikia is a free-to-use site that makes money from advertising. We have a modified experience for viewers using ad blockers

Wikia is not accessible if you've made further modifications. Remove the custom ad blocker rule(s) and the page will load as expected.