"Oh! I didn't see you there. Could you turn off that light? I'm photosensitive."
— Ataxia, Fairy of Darkness
She lives in the deepest part of the fairy village. She's rather withdrawn, and won't let anyone come near her. She wears a cloak of darkness that repels any attack.
Attack:
Lvl 1 : 2000
Max  : 5081
Max+: 6605

Growth: +35
Defense:
Lvl 1 : 1400
Max  : 4331
Max+: 5630

Growth: +35






Growth Progression: [2-60]
Skill: Grim Coat
DEF +100%

Enhance Value:
1600 experience
Dismiss Value:
3120 pence
Acquisition
Edit
-Persuade in the tower during the Land of Falling Stars Event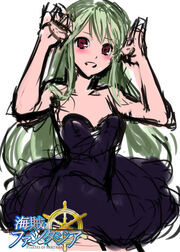 A very rough sketch of Ataxia, Fairy of Darkness was released.
Ad blocker interference detected!
Wikia is a free-to-use site that makes money from advertising. We have a modified experience for viewers using ad blockers

Wikia is not accessible if you've made further modifications. Remove the custom ad blocker rule(s) and the page will load as expected.