Encounter Message: Long time no see.
"Do you look down on traitors? But it's necessary for the well being of this world. I'm the good person here!...Are you still suspicious of me? If you meet with the Divine Empress, your doubts will disappear."
— Astronomer Lorelei
A close advisor of the Divine Empress. She always worked with a hard-working attitude. She was revealed to be a traitor at the secret meeting of the Three Nations. Her intentions and whereabouts after she escaped remained unknown.
Attack:
Lvl 1 : 2600
Max  : 4900
Max+: 6370

Growth: +30
Defense:
Lvl 1 : 2500
Max  : 4775
Max+: 6207

Growth: +30






Growth Progression: [2-45]
Skill: none


Enhance Value:
300 experience
Dismiss Value:
2346 pence
Acquisition
Edit
- Invite 1 person with your friend invite code. He or she at least complete the tutorial.
- Entering a friend invite code and finishing the tutorial.
- Purchased in the Sapphire Trading Post (1st ver.) for 40 Sapphires.
- Persuade after random encounter on Rainbow Island during the Typhoon Tower Event.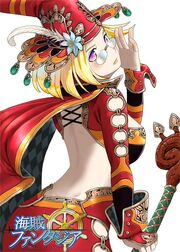 Non-English details

Japanese name
宝玉の魔女リブラ
Chinese name
宝玉魔女利布拉
Voice file
Voice actor (J)
田澤利依子
Voice actor (E)
Tazawa Riiko


Ad blocker interference detected!
Wikia is a free-to-use site that makes money from advertising. We have a modified experience for viewers using ad blockers

Wikia is not accessible if you've made further modifications. Remove the custom ad blocker rule(s) and the page will load as expected.