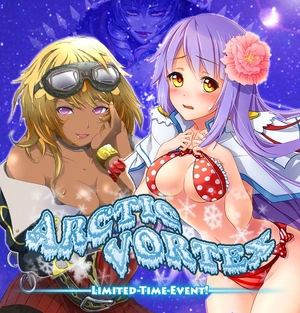 The Arctic Vortex Event is a both a
Dungeon Event
and a
Rescue Event
. Players traverse through a dungeon and defeat bosses as usual, but upon defeat, the bosses will give Ice Tickets, which can be used at the Frozen Rescue to rescue limited edition pirates.
Event Duration:
February 6, 2014 14:00 (GMT-7) - February 16, 2014 23:59 (GMT-7)
Raid Bosses:
Event Skill:
Event Points: Ice Stars
Floor 100 Reward: Rebel Star Kuromu
Extra Mechanics
Edit
Victory ATK Bonuses:
Everytime you defeat Merle or Cinta, you will gain an extra 10% ATK bonus to use against her. This bonus lasts for 10 minutes. If you defeat her again within that 10 minutes, the 10% bonuses will stack, which leads to higher % ATK. The current stacking limit is unknown (if there is a limit). If you don't defeat one of the bosses within the 10 minutes, you will lose the bonus and it will reset back to 0%.
Finding Cinta:
Cinta only appears after defeating Merle. Her appearance is random.
Frozen Rescue:
The Rescue Event portion of this event. After defeating Merle or Cinta, they will drop Ice Tickets for you. These can be used at the Frozen Rescue. One (1) Ice Ticket lets you use the Silver Frozen Rescue, which has a large pool of pirates, including limited time event pirates. Ten (10) Ice Tickets will let you use the Gold Frozen Rescue, which will increase your chances of obtaining a special event pirate, but it isn't guaranteed. The special event pirates have skills that provide small ATK bonuses while exploring the Icy Palace.
The Frozen Rescue limited event pirates are as follows:
Event Rescue
Edit
The following event pirates can be acquired through the Special Event Rescue to increase your damage to Merle and Cinta:
Test of Valor
Edit
Floor Bosses
Edit
Boss Rewards
Edit
Defeat Icy Merle
Reward
# of Defeats

35

100

140

x1 Ticket for every victory, x2 Tickets on every 5th, 10th, 15th, etc. victory
Defeat Beach Bunny Cinta
Reward
# of Defeats

25

70

90

150

x2 Ticket for every victory, x4 Tickets on every 5th, 10th, 15th, etc. victory
Ranking Rewards
Edit
Personal Ranking
Rank
Reward
1
2-10
11-80
81-200
201-499
500-505
506-749
750-755
756-999
1000-1005
1006-1499
1500-1505
1506-2000
2001-15000
Guild Ranking
Rank
Reward
1
2-3
4-10
11-30
31-49
50
51-99
100
101-149
150
151-249
250
251-400
Personal Rankings Hall of Fame
Edit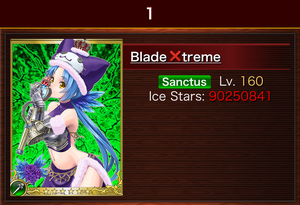 Top 10 Players
Rank
Crew Name
Icy Stars
1
Bladetreme
90,250,841
2
BushNoir
60,849,770
3
Pegasus Seiya
60,106,331
4
ogo
35,251,854
5
Fatdragon
26,140,922
6
Moho
25,962,858
7
Shiki Silly
22,859,302
8
Nara π
21,065,693
9
etinguish
19,237,383
10
Crew of Two
18,001,609
Guild Rankings Hall of Fame
Edit
Top 5 Guilds
Rank
Guild Name
Icy Stars
1
Dauntless
212,246,196
2
199,367,272
3
Purgatorio
46,139,432
4
AngelWing
20,791,360
5
Black Label
12,755,049
Ad blocker interference detected!
Wikia is a free-to-use site that makes money from advertising. We have a modified experience for viewers using ad blockers

Wikia is not accessible if you've made further modifications. Remove the custom ad blocker rule(s) and the page will load as expected.