"I can sing and dance too! But I am not too good with cooking. I can remember a song by listening to it just once. I think I will definitely become the cutest pirate bride ever!"
— Apprentice Colleen
[Limited Card] A traveling dancer. Attracted by the delicious food in the Whale Restaurant, she joined the restaurant's band. She dreams of becoming the cutest pirate to ever sale the seas.
Attack:
Lvl 1 : 1300
Max  : 2143
Max+: 2785

Growth: +20/15/10
Defense:
Lvl 1 : 2000
Max  : 3743
Max+: 4865

Growth: +40/35/30






Growth Progression: [2-11][12-16][17-30]
Skill: Lovely Jig
Maquina DEF +10%

Enhance Value:
150 experience
Dismiss Value:
1680 pence
Acquisition
Edit
-Defeat Sparkling Colleen 25 times during the Colleen's Temper Event.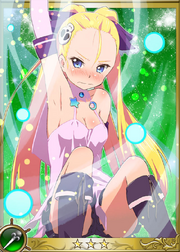 There is a no-fringe version of Apprentice Colleen.
The Colleen currently in-game is an entirely modified version of the original Colleen found in the Japanese version of Pirate Maidens. The original has the following stats:
Rarity: ★★★
Max level: 30
Cost: 15
Attack:
Lvl 1 : 1600
Max  : 2881
Max+: 3745

Growth: +30/25/20
Defense:
Lvl 1 : 1700
Max  : 3006
Max+: 3907

Growth: +30/25/20






Growth Progression: [2-11][12-16][17-30]
Skill: none





Non-English details

Japanese name
光の妖精使いコリン
Chinese name
光之妖精师柯琳
Voice file
Voice actor (J)
加藤杏奈
Voice actor (E)
Kato Anna


Ad blocker interference detected!
Wikia is a free-to-use site that makes money from advertising. We have a modified experience for viewers using ad blockers

Wikia is not accessible if you've made further modifications. Remove the custom ad blocker rule(s) and the page will load as expected.